MINDFULNESS FOR EARTH
The well-being of humans and the natural environment are intricately woven together, just as the current environmental and spiritual crises are deeply intertwined. Mindfulness for Earth is an international and interdisciplinary collaboration that connects human consciousness and awareness of the present moment with an appreciation of the earth's ecosystems that we inhabit. Research indicates that time spent in nature improves both physical and emotional well-being, with active environmental engagement having more benefit than passive exposure. By focusing the mind on the natural world around us with intention, we can improve the health of socio-ecological systems.
Neuroscience research reaffirms mindfulness as a skill and lifestyle that can be developed to cultivate awareness of one's inner and outer environment. While the inner environment refers to one's habitual tendencies, the outer environment refers to planet Earth, its climate, bio-geochemical cycles and complex ecosystems.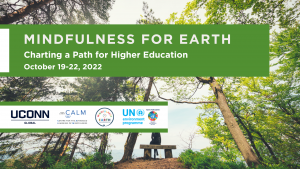 Location: Old Saybrook, CT.
By invitation only.