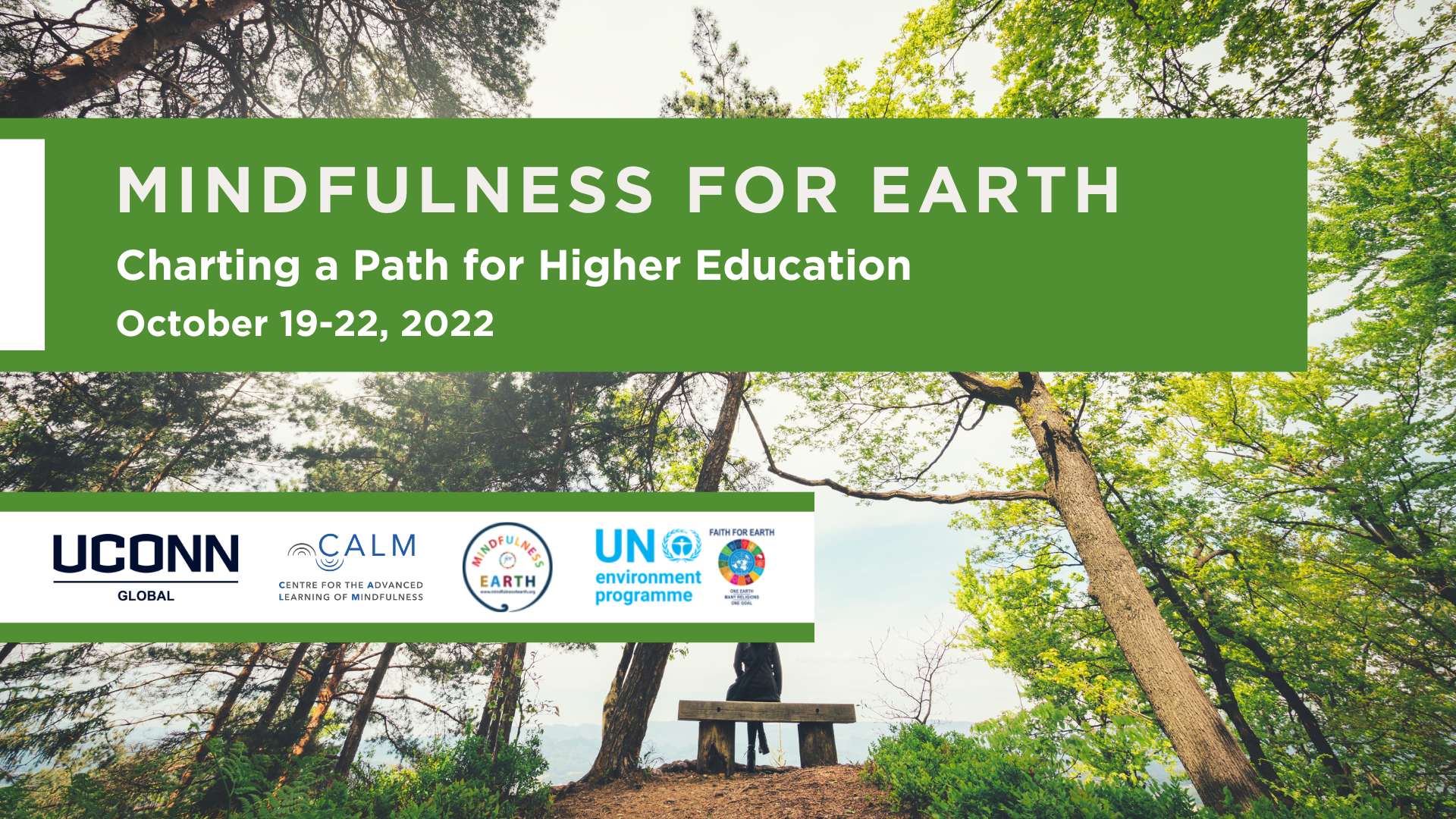 Mindfulness for Earth: Charting a Path for Higher Education
October 19-22, 2022
Saybrook Point, 2 Bridge Street, Old Saybrook, CT 06475
This workshop was presented by the University of Connecticut Office of Global Affairs, Centre for the Advanced Learning of Mindfulness (CALM), Mindfulness for Earth, and UN Environment Programme Faith for Earth. 
WORKSHOP PREMISE
The current environmental and spiritual crises are deeply intertwined. Mindfulness for Earth connects human consciousness and awareness of the present moment with an appreciation of the earth's ecosystems that we inhabit. Research indicates that time spent in nature improves both physical and emotional well-being, with active environmental engagement having more benefit than passive exposure. By focusing the mind on the natural world around us with intention, we can improve the health of socio-ecological systems.
Neuroscience research reaffirms mindfulness as a skill and lifestyle that can be developed to cultivate awareness of one's inner and outer environment. While the inner environment refers to one's habitual tendencies, the outer environment refers to planet Earth, its climate, bio-geochemical cycles and complex ecosystems.
The well-being of humans and the natural environment are intricately woven together. What that means for higher education was the focus of this workshop.
WORKSHOP OBJECTIVES
Workshop participants explored mindfulness for earth in higher education and proposed creative ways to promote community-wide mindful forms of environmental engagement. We discussed relevant research as well. A key objective for the group was to identify innovative mindfulness for earth practices specifically for higher education curricula, co-curricular activities and campus health and wellness services.
We hope to make a positive impact on student, faculty and staff emotional well-being while also transforming their personal relationships with nature, including more awareness of individual carbon footprints and environmentally destructive lifestyles. We will also be developing forms of pedagogy to help reduce human consumption of energy and natural resource exploitation more broadly.
The workshop brought together 40 scholars, practitioners, students and university administrators.
Agenda
To view or download a PDF of the program, click this link.
WEDNESDAY, OCTOBER 19, 2022
6:00 PM - 8:00 PM
Welcome Dinner

Daniel Weiner, Vice President for Global Affairs and Professor, Department of Geography, UConn

Kumanga Andrahennadi, Co-Founder, Mindfulness for Earth and Founder, CALM: Centre for Advanced Learning of Mindfulness
THURSDAY, OCTOBER 20, 2022
8:00 AM - 8:45 AM
Breakfast
8:45 AM - 9:30 AM
Participant Introductions

Daniel Weiner, Vice President for Global Affairs and Professor, Department of Geography, UConn

Kumanga Andrahennadi, Co-Founder, Mindfulness for Earth and Founder, CALM: Centre for Advanced Learning of Mindfulness

Session I: Mindfulness for Earth - A Conceptual Framework
9:30 AM - 10:45 AM
Mindfulness for Earth: Concepts

Session Leaders:

Kumanga Andrahennadi, Co-Founder, Mindfulness for Earth and Founder, CALM: Centre for Advanced Learning of Mindfulness

U Dhammajīva Mahā Thero, Abbot, Chief Preceptor and Meditation Master of Nissarana Vanaya Monastery and Founder, Sati Pasala Foundation

10:45 AM - 11:00 AM
Tea/Coffee Break
11:00 AM - 12:15 PM
The Role of Mindfulness in Religious Traditions

Session Leaders:

John Grim, Co-Director of the Forum on Religion & Ecology, Yale University

Mary Evelyn Tucker, Co-Director of the Forum on Religion & Ecology, Yale University

12:15 PM - 1:15 PM
Lunch
Session II: Mindfulness for Earth Research
1:30 PM - 2:45 PM
Environmental Compassion

Moderator: Zahra Ali, Ph.D. Student, Plant Science & Landscape Architecture, UConn

U Dhammajīva Mahā Thero, Abbot, Chief Preceptor and Meditation Master of Nissarana Vanaya Monastery and Founder, Sati Pasala Foundation

Rana Al Qaimari, Program Manger, EcoPeace Middle East

Kumanga Andrahennadi, Co-Founder, Mindfulness for Earth and Founder, CALM: Centre for Advanced Learning of Mindfulness

2:45 PM - 3:15 PM
Tea/Coffee Break
3:15 PM - 4:30 PM
Research on Nature and Well-Being

Moderator: Kumanga Andrahennadi, Co-Founder, Mindfulness for Earth and Founder, CALM: Centre for Advanced Learning of Mindfulness

Nashaw Jafari, Project Administrator, Sadhguru Center for a Conscious Planet, Department of Anesthesia, Critical Care and Pain Medicine, Beth Israel Deaconess Medical Center, Harvard Medical School

Dimitris Xygalatas, Associate Professor, Anthropology Department, UConn

Sohyun Park, Assistant Professor, Department of Plant Science and Landscape Architecture, UConn

4:30 PM - 5:00 PM
Reflections on the Day

Session Leader: Daniel Weiner, Vice President for Global Affairs and Professor, Department of Geography, UConn

6:00 PM - 8:00 PM
Dinner
FRIDAY, OCTOBER 21, 2022
7:30 AM - 8:30 AM
Mindfulness in Nature Outdoor Practice Session
8:30 AM - 9:15 AM
Breakfast
Session III: Mindfulness for Earth in Higher Education
9:30 AM - 10:45 AM
Integrating Mindfulness and Nature-Based Learning

Moderator: Zahra Ali, Ph.D. Student, Plant Science & Landscape Architecture, UConn

Phoebe Godfrey, Professor in Residence, Department of Sociology, UConn

Kumanga Andrahennadi, Co-Founder, Mindfulness for Earth and Founder, CALM: Centre for Advanced Learning of Mindfulness

Athulya Narayanan, Undergraduate Student, Environmental Studies, UConn

Zareen Reza, Undergraduate Student, Environmental Studies, UConn

Juan Pablo Yepes, Undergraduate Student, Department of Sociology, UConn

10:45 AM - 11:00 AM
Tea/Coffee Break
11:00 AM - 12:15 PM
UConn: A Living Laboratory

Moderator: Zahra Ali, Ph.D. Student, Plant Science & Landscape Architecture, UConn

Cynthia Jones, Professor Emerita, Department of Ecology and Evolutionary Biology, and Director of the Plant Biodiversity Conservatory and Research Core, UConn

Jessica Larkin-Wells, Farm Manager, UConn Spring Valley Student Farm

12:15 PM - 1:15 PM
Lunch
Session IV: Roadmap for Mindfulness for Earth in Higher Education
1:30 PM - 3:00 PM
Building a Mindfulness for Earth Roadmap for Higher Education

Moderator: Ngozi Taffe, Associate Vice President for Global Affairs, UConn

Karen McComb, Director of Health Promotion and Community Impact, Student Health and Wellness, UConn

Claire Dutton, Graduate Assistant, Dean of Students Office, UConn

Kumanga Andrahennadi, Co-Founder, Mindfulness for Earth and Founder, CALM: Centre for Advanced Learning of Mindfulness

3:00 PM - 4:30 PM
Group Reflections & Action Items

Daniel Weiner, Vice President for Global Affairs and Professor, Department of Geography, UConn

Kumanga Andrahennadi, Co-Founder, Mindfulness for Earth and Founder, CALM: Centre for Advanced Learning of Mindfulness

6:30 PM - 8:30 PM
Closing Dinner
SATURDAY, OCTOBER 22, 2022
9:00 AM - 10:00 AM
Breakfast
11:00 AM
Departure