Fulbright Scholar Reception
On Wednesday, November 9, 2017, the Global Affairs office hosted a reception to recognize UCONN as a Top Producer of U.S. Fulbright Scholars for the 2016-17 academic year and to honor all of the university's Fulbright Scholar alumni.  Our university was among the top 10 producers of Scholars from research institutions, with seven Fulbright Scholars on its faculty who taught and conducted research around the world throughout the 2016-17 academic year. They are: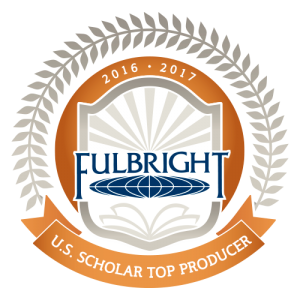 Carol Auer, Plant Science & Landscape Architecture, Core Scholar grant to Ecuador
Alexis Dudden, History, Core Scholar grant to South Korea
Kathryn Knapp, English, Core Scholar grant to Lithuania
Radenka Maric, Engineering, Core Scholar grant to Italy
Bandana Purkayastha, Sociology, Core Scholar grant to India
Nathaniel Trumbull, Geography, Core Scholar grant to Russia
Steven Wisensale, Human Development & Family Studies, Core Scholar grant to Japan
Since 1954, 176 UCONN faculty members have received Fulbright grants to conduct research or teach, many of whom have received multiple awards. The Fulbright Program is the flagship international educational exchange program sponsored by the U.S. government and is designed to increase mutual understanding between the US and other countries. Through 71 years of strong bipartisan support, the Fulbright Program has been able to address critical priorities related to the major global challenges of our time. It supports the long-term interests of the United States and the world, through building relationships, knowledge, and leadership of individuals and institutions across 165 countries.
The Fulbright Program has leveraged the power of diplomacy and academia to build an active network with thousands of leaders across the private, public and nonprofit sectors. Over the years, the Fulbright Program has not only delivered tremendous benefits for the University of Connecticut, but also for other universities and communities throughout the State. Through their participation in the Fulbright program, our faculty help the university realize its academic mission by bringing recognition to UCONN's research and teaching, by being engaged global citizens.
It's with great appreciation we recognize and honor ALL of UCONN's Fulbright Scholars for 2016-17 and previous years!
---