Cutting-edge Scholarship Bridges the Atlantic: The New Connecticut / Baden-Württemberg Human Rights Research Consortium
June 12, 2020
By Inga Poetzl, Baden-Wuerttemberg - Connecticut Exchange Coordinator
UConn researchers have launched the Connecticut/Baden-Württemberg Human Rights Research Consortium (HRRC), a unique international and interdisciplinary initiative, involving more than 70 members at 15 leading universities and institutes in Connecticut and in the German state of Baden-Württemberg. The newly founded Consortium will confront such pressing human rights issues as violence and racism, the demand for affordable health care in times of the pandemic, questions over data security of contact tracing apps, and calls for addressing climate change. About half of the Consortium participants are based in the U.S. and half in Germany. UConn Professors Sebastian Wogenstein and Katharina von Hammerstein, who initiated the Consortium and now serve as the Consortium's co-directors on the Connecticut side, have both been involved with UConn's Human Rights Institute for many years.
"The Human Rights Institute has been a diverse, amazing intellectual powerhouse," says Wogenstein, Associate Professor of German and Judaic Studies. "That's something we wanted to emulate with our Consortium members across Connecticut and on the other side of the Atlantic." Wogenstein found an enthusiastic partner in von Hammerstein, Board of Trustees Distinguished Professor of German Studies, who was recently recognized for her outstanding research and commitment. "The concept of an interdisciplinary, interinstitutional, and interstate consortium has created a true splash," adds von Hammerstein, "Within weeks, we had members from world class universities, such as Heidelberg, Yale, Tübingen, Wesleyan, Freiburg, the renowned Max Planck Institute for International Law, and the University Network for Human Rights." UConn's Human Rights Institute, along with the Freiburg Institute for Advanced Studies (FRIAS) at the University of Freiburg, on the Western edge of the Black Forest in Germany, serve as the Consortium's hubs.
"We are delighted to have a chance to deepen our relationships across the Atlantic and within our state to advance human rights research and practice," says Kathryn Libal, Director of the Human Rights Institute and Associate Professor of Human Rights and Social Work. Bernd Kortmann, Director of the Freiburg Institute for Advanced Studies (FRIAS) and one of the consortium's two co-directors on the German side, shares her excitement.
"Human rights already play a strong role at FRIAS as part of its focus on Responsible Artificial Intelligence," says Kortmann. "FRIAS is also strongly interested in creating a bridge and mutual inspiration between human rights research and human rights-based governance."
Silja Voeneky, Professor for International Public Law at the University of Freiburg, is an expert in human rights and artificial intelligence and the other Consortium director on the German side.
"There are so many human rights questions to be answered in the 21st century from an interdisciplinary and international perspective," says Voeneky. "The HRRC brings together scholars and researchers from both sides of the Atlantic to discuss these issues and come up with new ideas and solutions on how to improve human rights research, discourse and implementation."
The Consortium also provides opportunities for graduate students to exchange ideas and share knowledge with fellow students in both states.
"The focus on human rights is critical during this period of de-globalization and rising authoritarianism," says Dan Weiner, UConn's Vice President for Global Affairs, whose office is one of the initiative's sponsors. "This timely and innovative consortium substantially broadens the impact of Connecticut's and UConn's long-standing academic partnership with Baden-Württemberg." Connecticut and Baden-Württemberg have been partner states for over 30 years.
The Consortium is funded in equal parts by UConn Global Affairs representing the State of Connecticut and by the Ministry of Science, Research and Arts in the State of Baden-Württemberg.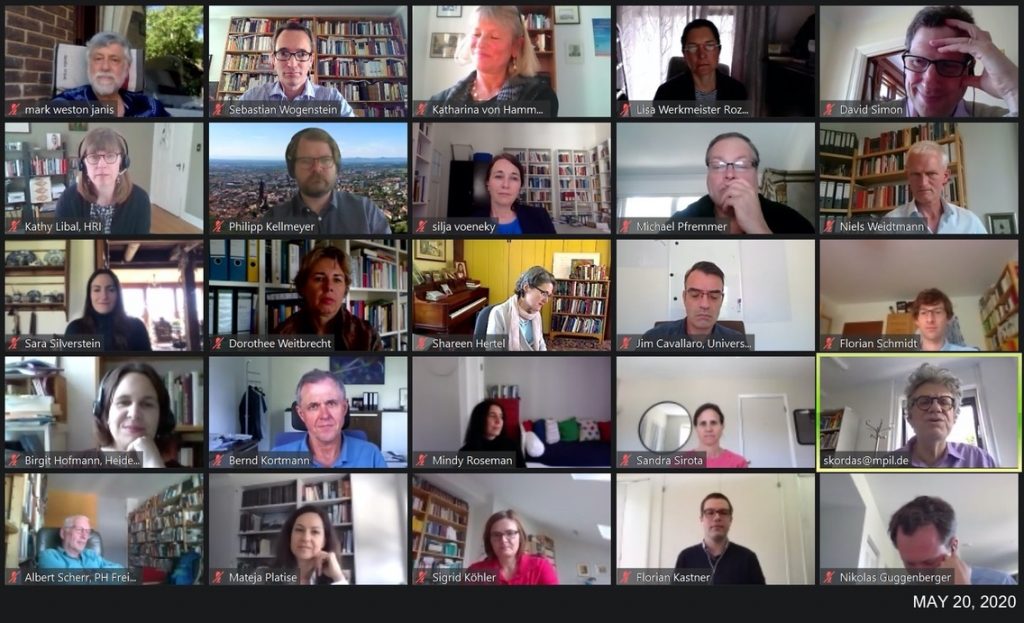 ---