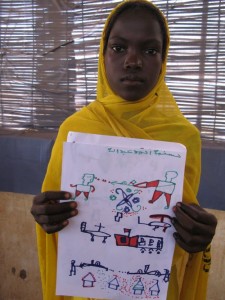 UConn Human Rights Institute Receives $4 Million Gift
The UConn Human Rights Institute received the largest gift in its history, from philanthropist and UConn alumnus Gary Gladstein (class of 1966) and his wife Phyllis, and from Gorge Soros through his Open Society Foundations. Each will donate $2 million, with the Soros gift contingent on the UConn Foundation matching that with an additional $2 million in matching funds—for a total of $6 million.
With the gift, the Human Rights Institute will create an endowment to support undergraduates. Currently, more than 80 human rights majors are enrolled at the institute. It will also allow the Institute to bring in renowned speakers and leaders in the field for conferences and other events.
"All civilizations must learn to share and respect the human rights of others," said Gladstein, who lives in Greenwich, Connecticut. "The true differences around the world are not between different religions or races, but more about those who embrace peace and those who would destroy it. We can all do much better when we work together,"
UConn President Susan Herbst said in a statement, "The vision and generosity of our donors continues to make an incredible impact on this program and is helping to make UConn a global leader in human rights education and scholarship. We could not be more grateful to both Gary Gladstein and George Soros for their support and commitment to our university and the field of human rights."
Regarding his gift, Soros said, "I was a child in Hungary when the Nazis invaded. I then lived under Soviet rule, so I know what it is like to live under brutal regimes that deprive people of their basic human rights. I am pleased to support UConn's critical work in researching and promoting human rights. I am glad to partner with Gary to help build UConn's program."
"These gifts are transformative because they provide us with a financial foundation that we haven't had before," said Dan Weiner, UConn's vice president for global affairs.
The Institute's cross-disciplinary research teams of faculty and graduate students focus on three distinct areas: economic and social rights, humanitarianism, and global health and human rights.
"This gift will sustain cutting-edge, interdisciplinary scholarship on human rights at the University of Connecticut," Institute Director Kathryn Libal said.
The gift attracted extensive media coverage. Below is a partial list of media outlets that covered the story. 
Fox61 Connecticut: UConn Human Rights Institute to receive $4 million donation
Hartford Courant: Famed Philanthropist, UConn Alum Donate $4 Million For UConn Human Rights
Haute Living: Haute 100: George Soros Donate $2M to the Human Rights Institute at UConn
UConn Today: UConn Receives $4 million gift for Human Rights Institute
---