The Third Annual Abu Dhabi Strategic Debate (ADSD), held on November 12 -14, 2016 at the Emirates Palace in Abu Dhabi was organized by Emirates Policy Center (EPC) under the patronage of the United Arab Emirates Ministry of Foreign Affairs and International Cooperation and in partnership with the Atlantic Council—a non-partisan think tank in Washington D.C. Based in Abu Dhabi and founded in 2013, EPC asserts itself as the first independent think tank in the region headed by a woman. The EPC articulates its vision as specializing in "forecasting the future of the Middle East and North Africa (MENA) countries, regional and international policy trends, and the impact of different geopolitical projects on the region." The ADSD was initiated three years ago as a way to bring together scholars, politicians, strategists, CEO's, and policy makers from around the world to address challenges facing the region. In her opening remarks marking the official launch of this year's debate, Dr. Ebtesam Al-Ketbi, President of the EPC, said that the Abu Dhabi Strategic Debate served as a means of enhancing policy-making efforts and consolidating Abu Dhabi's role as a hub for exchanging ideas, suggesting peaceful solutions and generating strategic alternatives for all-scale pressing issues in the region and beyond.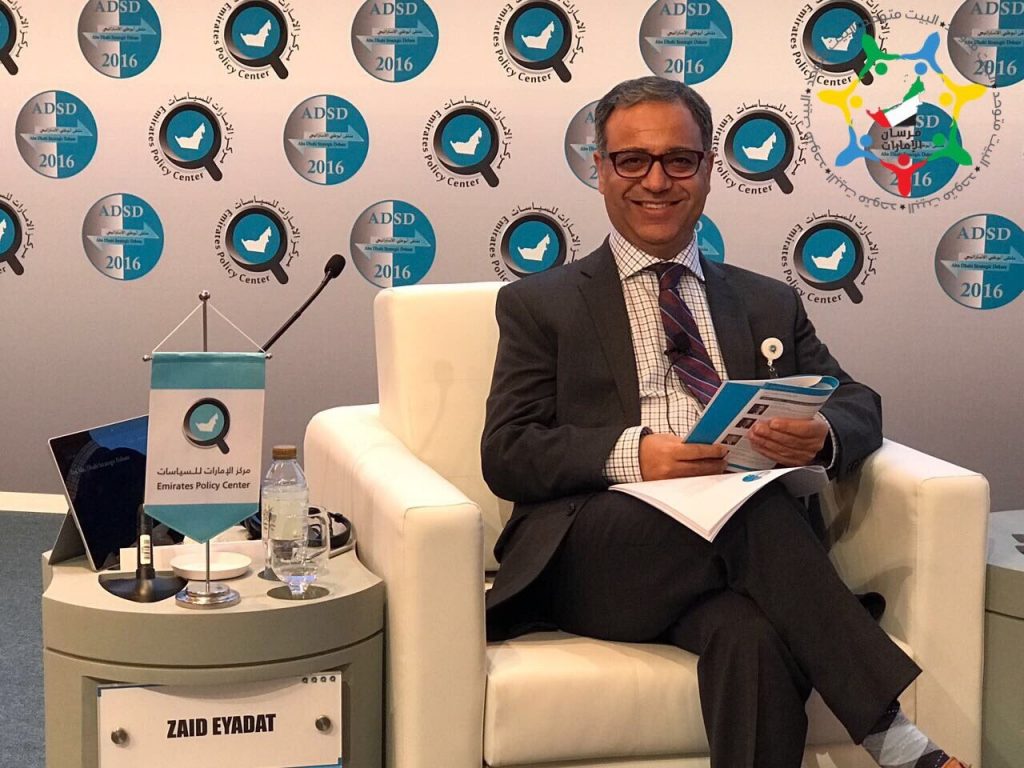 This year's event—taking place in the days immediately following the election here in the U.S.— addressed hot political issues confronting the Middle East as well as the rest of the world, and brought together nearly 400 distinguished international, regional and national experts in foreign policy and strategy. The ADSD's Davos-styled panel discussions focused on problems confronting the Gulf amidst a changing international order, regional security cooperation in the Middle East, terrorism, foreign policy under a new administration in the U.S., and cyber security. UConn participants included Daniel Weiner, Vice President for Global Affairs and Professor of Geography; Zaid Eyadat, Professor-in-Residence in Political Science and Human Rights; and Roy Kamphausen, Senior Advisor for East Asia to UConn's Vice President for Global Affairs and Senior Vice President for Research at the National Bureau of Asian Research-Washington, DC Office. As in the two previous Annual Debates, the conference was designed to provide an important forum for the discussion of critical global trends in relation to international politics, with the intent of developing action items and policy recommendations.
Vice President Weiner moderated the second session of the conference, which was entitled "Traditional, Rising and Declining Powers in a Shifting World Order." Discussants included the other two UConn participants: Professor Zaid Eyadat and Mr. Roy Kamphausen.  Each member of the panel brought different areas of expertise to the table. Vice President Weiner is a development geographer with area studies expertise in eastern and southern Africa. He has also played a pivotal role in creating the UConn Abrahamic Programs in the Middle East/North Africa Region Initiative, an academic umbrella that fosters cross-border research, intercultural communication and community engagement.
Professor Eyadat—who also served as moderators for sixth session, "Cyberspace Security Power Building and Geopolitical Impact"—is a leading expert on Middle East politics and human rights. He is actively involved in research, teaching, and development work in the public, private, non-profit and academic spheres. Professor Eyadat's scholarly work concerns issues of global justice, understanding the "Arab political mind," reforming Islam, and minority rights.  He serves as a consultant for diverse international organizations and NGOs, including the Emirates Policy Center.
Mr. Kamphausen joined UConn in 2015 as a Senior Advisor for East Asia in Global Affairs. He is also Senior Vice President for Research and Director of the Washington D.C. office at the National Bureau of Asian Research (NBR). Prior to joining NBR and UConn, Mr. Kamphausen served as a career U.S. Army officer with assignments as China Policy Director in the Office of the Secretary of Defense, China Strategist for the Chairman of the Joint Chiefs of Staff, and Military Attaché at the U.S. Embassy in Beijing.
Other conference panels included a wide variety of speakers, including Michael Chertoff, Former United States Secretary of Homeland Security; Koenraad Dassen, Minister Counsellor-European Union Delegation to the Hashemite Kingdom of Jordan; Amre Moussa, former Secretary-General of the Arab League; Dr. Mahmoud Gebril, President of the National Forces Alliance and former Prime Minister of Libya; and Dr. Mahmoud Mohandedou, Deputy Director and Academic Dean at the Geneva Center for Security Policy;  The panel that received the most news coverage worldwide was entitled "American Foreign Policy Under a New Administration" with discussants James L. Jones, former U.S. National Security Advisor; Jon Huntsman, Chairman at the Atlantic Council, former Governor of Utah and Ambassador to China and Singapore; and Dr. Andrew Parasiliti, Director, Center for Global Risk and Security RAND Corporation. The session provided critical analysis of possible foreign policy shifts under President-Elect Trump.
Watch all the sessions of the 3rd Annual ADSD here.
Session 2: Traditional, Rising, and Declining Powers in a Shifting World Order
UConn Participants
[Moderator] Daniel Weiner, Vice President for Global Affairs
Zaid Eyadat, Professor in Residence of Political Science & Human Rights
Roy Kamphausen, Senior Adviser on East Asia to UConn Global Affairs and Senior Vice President for Research and Director at the National Bureau of Asian Research-Washington, DC Office
Session 6: Cyberspace Security Power Building and Geopolitical Impact
UConn Participants
[Moderator] Zaid Eyadat, Professor in Residence of Political Science & Human Rights
---