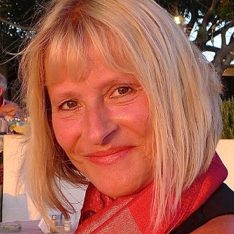 Board of Trustees Distinguished Professor Katharina von Hammerstein: A Global Scholar 
June 25, 2020
By Inga Poetzl, Baden-Wuerttemberg - Connecticut Exchange Coordinator
Professor Katharina von Hammerstein's recent recognition as one of three Distinguished Professors by UConn's Board of Trustees, was very well received by the UConn community.
Professor von Hammerstein's expertise is acknowledged internationally and she frequently attends and presents at conferences in the U.S. and abroad. Professor Gustavo Nanclares, Head of the Department of Literatures, Cultures, and Languages, highlights von Hammerstein's global outlook and engagement: "She is among the most universally respected figures —both on a personal and professional level— in the field of Germanic Literary and Cultural Studies worldwide."
An expert in German language literature and culture from the 18th to the 20th century, von Hammerstein's research interests are very broad, ranging from Literary Studies to how the arts in general and the medium of film in particular can be utilized for language learning. She is always going beyond the local in scope and outreach. Within her Postcolonial Studies, she put her focus on the German-African relationship, offering courses to engage her students in that interesting connection. Kathryn Libal, Associate Professor at the School of Social Work and Director of the Human Rights Institute at UConn acknowledges von Hammerstein's "pivotal leadership role in Global Affairs and, notably, the Human Rights Institute." Libal emphasizes von Hammerstein's work "to develop the graduate certificate program in Human Rights to include a strong humanities component and has engaged Global Affairs to assure that exchange opportunities engage students as well as faculty."
Her passion for Human Rights and global interaction, culminated in her latest undertaking, the initiation of the Human Right Research Consortium. Together with Professor of German Studies Sebastian Wogenstein, von Hammerstein co-directs this interdisciplinary venture of German and American researchers, intending to promote and support academic collaboration between institutions in the State of Connecticut and the Land Baden-Württemberg in Germany. Wogenstein says that he has "always known Katharina as a powerhouse—in her scholarship, her teaching, and her service to the university—but our co-directorship of the Connecticut/Baden-Württemberg Human Rights Research Consortium has shown me how her positive energy can propel a project forward."
Martina Diesing, who coordinates the state-to-state exchange for the Ministry of Science, Research and Arts in Stuttgart, Germany, agrees with this assessment. Diesing is "delighted to have the opportunity to collaborate with Katharina both in the framework of the Human Rights Research Consortium as well as in other projects embedded in the state-to-state exchange. Given her extensive global engagement and outstanding academic achievements, Katharina is ideally suited to support our prospering partnership."
Apart from being an outstanding scholar and global citizen, von Hammerstein is what Professor Anke Finger, Section Chair in German Studies, calls a "real 'mensch'", someone who "cares deeply about those around her as a teacher, a colleague, and a mentor. Her energy and enthusiasm, her knack for detail and posing helpful questions, her leadership in many different arenas make her unique."
Kathryn Libal adds, "in addition to being a stellar scholar in the field, she's an unflagging mentor to her students and colleagues at UConn".
"Katharina has been my mentor since 2006 when I returned to UConn as the Assistant Dean in the Neag School of Education. She constantly encouraged me to broaden my professional horizon and has been able to recognize the skills in me that I don't even know. She is one of the faculty members who urged me to challenge myself for work in global affairs," stated Yuhang Rong, Associate Vice President for Global Affairs.
Britta Meredith, who recently earned her Ph.D. in German Studies and worked very closely with von Hammerstein, seconds that: "She has the gift for bringing out the best in her students and her classes are some of the most challenging, but also most rewarding I've ever taken. Her feedback, criticism and input are invaluable… It is in great part thanks to her encouragement that I chose to pursue my Ph.D."
The honoree herself is "deeply honored to have been selected for this prestigious title, as there are so many excellent scholars at our university," and expresses her delight in UConn's appreciation of "global, humanities and human rights scholarship." Von Hammerstein also acknowledges, "individual recognition is always the result of collective group accomplishments. My work is based on (inter)national scholarly collaborations and, at UConn, owes much to Global Affairs including the Human Rights Institute and to the Department of Literatures, Cultures and Languages including my colleagues in German Studies."
---