UConn Professor Releases Seventh Album
Point of Tranquility with the U.S. Coast Guard
Written by Nicholas Hampton, Multimedia Project Specialist
September 14, 2020
Kenneth Fuchs, Professor of Composition at the University of Connecticut, released his seventh album with Naxos Records titled Point of Tranquility August 14, 2020.
The piece was recorded with the United States Coast Guard Band and sponsored by the Office of Global Affairs (OGA) at the University of Connecticut. Fuchs' is a world-renowned Grammy Award-winning American composer, who has been working with OGA on building global collaborations around music and the arts. 
"I love teaching composition at the University of Connecticut and I'm extremely excited that the United States Coast Guard Band is also located in Connecticut at the Academy in New London," Fuchs says.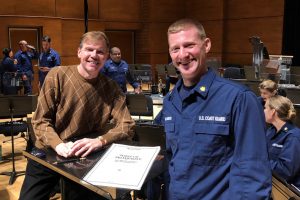 Fifteen minutes from UConn's Avery Point campus, where the Thames River meets the Long Island Sound captivated Fuchs. He shares that it is one of the most dramatic spots of earth meeting water that he has ever seen—that point of tranquility, the extraordinary location where they live and practice, seemed so perfect for the Coast Guard Band.
The album includes seven works by Fuchs titled Discover the Wild, Point of Tranquility, From the Field to the Sky, Rush, United Artists, Christina's World and Forever Free.
Point of Tranquility, the name of the album, is also a painting by Morris Louis that inspired Fuchs in his work. The broad strokes of color across the canvas inspired Fuchs to create a piece that suggests the same "washes of color" that bring you to a point of tranquility.
"I really responded to that. It was the gesture, the shape that I discovered that I loved so much, with the abstract expressionists, with this sense of freedom, of coloristic freedom, of coloristic shape all over canvas, and I thought 'What a great idea for a musical composition,'" Fuchs says.
Fuchs credits his high school band director Bentley Shellahamer for setting him on the path to become an award-winning composer in an interview he did for UConn Magazine. Fuchs came to UConn in 2005 to head the music department and now teaches courses that involve writing, analysis and discussion of music composition. He tells his students to write as much as possible then find the right musicians and have them rehearse their music immediately to make sure they've made the right choices, just as his teacher did for him.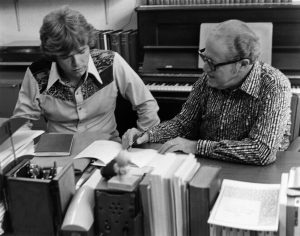 Fuchs studied with American Composer Alfred Reed as an undergraduate student at the University of Miami and Vincent Persichetti as a graduate student at Juilliard. He contributes his compositional perspective to the work he did with both of those artists. They challenged him to think about creating a central thread through the entire piece "with a group of people who have to continually breathe in their instruments, but to also make that an organic part of the musical composition," Fuchs mentioned in an interview for Naxos.
Reed has published over 200 works and Persichetti is known for training many noted composers in composition at the Juilliard School where Fuchs completed his Doctor of Musical arts degree in composition. Fuchs has composed music for orchestra, band, chorus, and various chamber ensembles. His music has been performed in the United States, Europe, and Asia. Fuchs has been nominated for four Grammys and won his first in 2019 in the Best Classical Compendium category for his album "Piano Concerto 'Spiritualist'/Poems of Life/Glacier/Rush."
Point of Tranquility is available on a variety of platforms via Naxos Records.
---